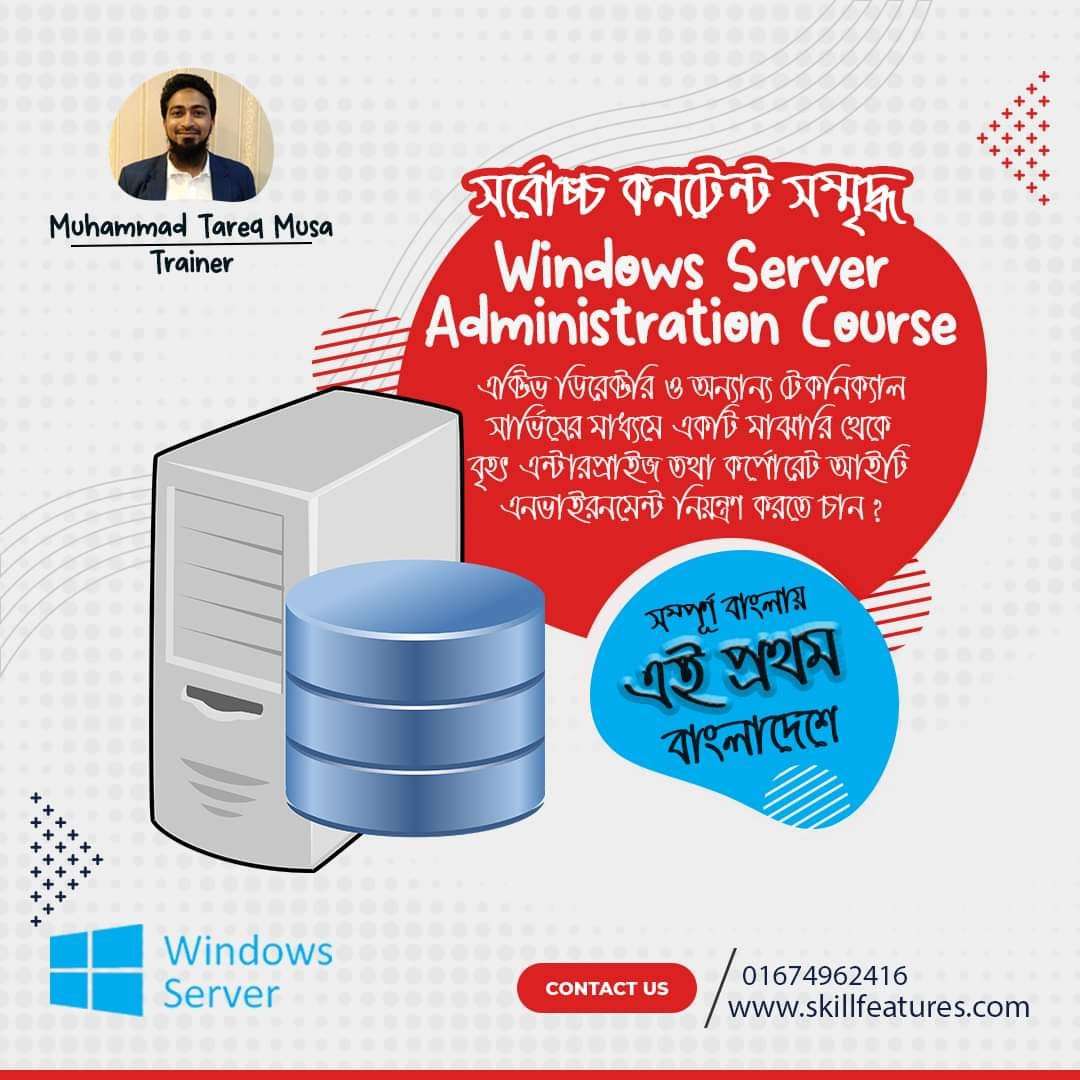 About Course
মাইক্রোসফট উইন্ডোজ সার্ভার অপারেটিং সিস্টেম তথা এক্টিভ ডিরেক্টরি (AD) এবং অন্যান্য টেকনিক্যাল সার্ভিসের মাধ্যমে কিভাবে একটি মাঝারি থেকে বৃহৎ এন্টারপ্রাইজ তথা কর্পোরেট আইটি এনভাইরনমেন্ট নিয়ন্ত্রণ করা যায়
তা নিয়ে "skillfeatures.com" নিয়ে এলো সম্পূর্ণ প্রেক্টিক্যাল নলেজ বেইজ  কোর্স!!!
Learn to manage Windows Server Administration with more than 4+ hours of content that every systems administrator, network administrator. Some experience with Windows Server operating systems would be beneficial, but not a requirement for attending this course.
Course topics include:
· Deploying Windows Server Desktop Experience
· Managing Active Directory objects, including users, computers, groups, and more
· Learn how Windows Server 2019 and Active Directory Works
· Understanding Windows Server Group Policy design considerations, processing and troubleshooting
· Administering Windows Server Group Policy settings and preferences
· Managing DNS on a Windows Server, including management of Active Directory Integrated, Primary, Secondary and Stub zones, Records, Scavenging and more.
· Implementing and Managing DHCP on Windows Server, topics such as DHCP Failover, DHCP Split-Scope
· Windows Server folder quotas and file screens
· Data Deduplication, SMB Share
· Security about Windows Server
. Windows Server Networking , NIC Teaming
· And more….
Show More
What Will You Learn?
Total 47 Tutorial :

You Will Learn by this Course :

Overview of Windows Server Certification:

Build Your LAB: Section-1

Active Directory | Section-2

Group Policy | Section-3

Windows Server Storage & Data Center Solutions: Section-4

DNS Server Management | Section-5

DHCP Server Management | Section-6

Windows Server FTP Services | Section-7

Windows Server Network Redundancy & Load balance | Section-8

Windows Server Security: Section-9

Migration | Section-10
Course Content
1. Overview of Windows Server Certification:
Build Your LAB: Section-1
Active Directory | Section-2
Group Policy | Section-3
Windows Server Storage & Data Center Solutions: Section-4
DNS Server Management | Section-5
DHCP Server Management | Section-6
Windows Server FTP Services | Section-7
Windows Server Network Redundancy & Load balance | Section-8
Windows Server Security: Section-9
Migration | Section-10